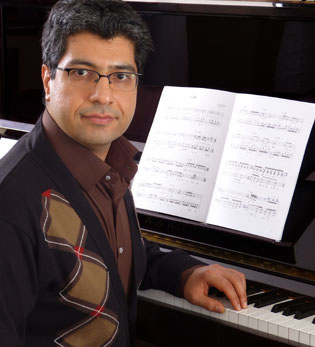 Now that you have landed on my page, it does mean that you are seriously considering to learn playing piano!
You have made the best choice to pick the piano amongst all other instruments , piano is the most versatile instrument that you could imagine with a remarkable sound and the ability to play any style of music that  ever like to play.
Piano is the only instrument that allows you to make harmony for your melody simultaneously at the same time.  Also by looking at the Keyboard you would be able to visually learn the music theory as well as harmony, that's why all of the music students should learn at least a little bit of playing piano as well as their main instrument. By learning piano you literally will have a better level of perceiving music theory and science, so learning any other instrument will be easier for you.
 For a person who would like to be an arranger or even a composer, piano is a must know tool !
So if you are serious about music, you should be serious about learning piano!
It is good to take a few moments to evaluate your musical goals and expectations.
First, ask yourself why you want to learn piano? Do you really like the instrument or do you want to learn it because everyone else is?
What genre of music do you want to learn? Many people choose classical because it's perceived to be more sophisticated. But this reason alone will not provide enough motivation to and determination for a piano student to keep at it. If you're not playing the music you like, there's a good chance you won't be returning to piano for much needed practice.
It's good to establish what your own goals are first in order to find a teacher who can help you achieve those goals.
As a teacher, I'm constantly wracking my brains searching for new ideas on how to inspire my students to practice. Since I've been teaching for the past 25 years, I'm constantly developing new teaching techniques and each student is new challenges for me. There has been no typical student in my experience, and what works for one student might not necessarily work for another.
Ok , now that you have read all the way down , it is clear that you are very serious about learning piano and you have made your mind to make your feet wet and start learning piano.
To know more about me, my teaching methods , etc… please explore the frequently asked questions (FAQ) part of my website, you would find answers to all or most of your question there. Don't forget to navigate to other pages for more information, I promise you would find some useful information that would transform your mindset and will give you new learning attitude about music and Piano
If you can't wait,would like to jump in straight away and start learning, pick up the phone and call or email me to arrange an appointment for your first piano lesson, however it is good to remind you that being patient is almost a must have tool for learning piano, especially if you would like to keep up the good work  ;-)